At The London Skin and Hair Clinic our Dermatologists use cryotherapy (freezing with liquid nitrogen) for treating warts.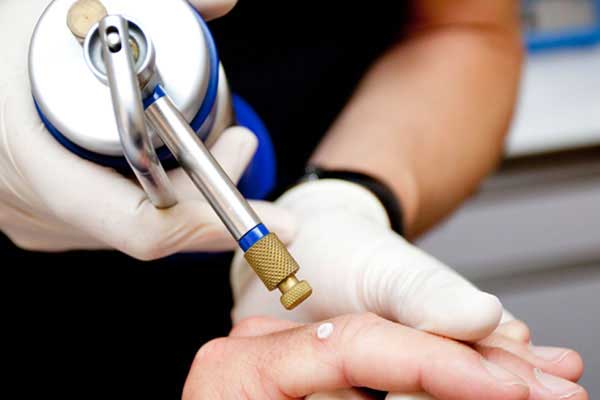 Liquid nitrogen is applied to the warts with a specialized flask and nozzle
Preferable to surgery because of minimal pain and good cosmetic result
Repeat application may be required
In clinic procedure that can be done during your consultation
Extreme cold (from liquid nitrogen) is applied to the warts.
At a Glance
Guide Price: From £220 for up to 3 lesions, and from £340 for 4 or more lesions, per treatment.
Frequency: Review and repeat treatment after two weeks
Risk: Low. In rare cases a scar may form
Aftercare: Keep the area dry and out of the sun and do not pick the scab that forms
What is involved in Wart Treatment?
The Dermatologist uses a canister with very precise nozzles to spray the warts with liquid nitrogen. Procedures last from around 5 minutes to 30 minutes. For some warts it may be necessary to retreat the area.
What are the risks or potential side effects of Wart Treatment?
The skin may form a blister, there may be discomfort for 1-2 days and it may take up to 2 weeks for redness and crusting to reduce. Treatment may leave a small scar.
What aftercare is required for Wart Treatment?
The treated area can be washed with soap and water. The area should be protected from sun exposure.
What is the cost of Wart Treatment?
The cost is based depending on the number of lesions to be treated. For new patients a consultation is required. You can find our fees here.